The Savings Bank of the Grand Fountain United Order of True Reformers in Richmond, Virginia was the first Black-owned bank in the United States. Reverend William Washington Browne created the bank on March 2, 1888, and it opened its doors on April 3, 1889. The Capitol Savings Bank of Washington, D.C. was the first black-owned bank to open on October 17, 1888, despite being the first black-owned bank to be chartered in the United States.
Browne was born in 1849 as an enslaved African in Georgia. Browne would later flee to the North and join the Union Army. He founded the Grand Fountain United Order of True Reformers, a Black fraternal organization, after the Civil War. Browne then went to Charlotte County, Virginia in 1887 to organize the True Reformers, but he ran into some problems.
The branch made arrangements to keep its savings with a white merchant in the county, despite the fact that racial tensions in the area were high following a lynching. Local Black people were organizing and raising money, the shopkeeper informed other white locals.
As a result, the branch had no choice but to disband. To ensure that their funds could not be monitored by white people, Browne decided that the True Reformers would have to establish and administer their own bank.
Browne's home, located at 105 West Jackson Street in Richmond's Jackson Ward district, was the first location for the Grand Fountain United Order of True Reformers Savings Bank. The first day's deposits to the bank totaled $1,269.28. In 1891, the bank relocated to 604-608 North Second Street, just a few blocks away.
The bank would grow and survive the 1893 financial panic, during which time it was the only bank in Richmond to remain open and honor all checks and pay out the full value of deposits.
Browne died in 1897, yet the bank continued to thrive after he passed away. The bank would branch out into a newspaper, real estate agency, retirement home, and a building and loan association, among other things. They created new branches as far as Kansas, and by 1900, the bank had expanded to 24 states, with $223,500 in assets.
However, under the leadership of Reverend William Lee Taylor, the bank's prospects began to deteriorate. Branches were poorly monitored, and the bank's tight restrictions for its operations in the early years were allowed to lapse.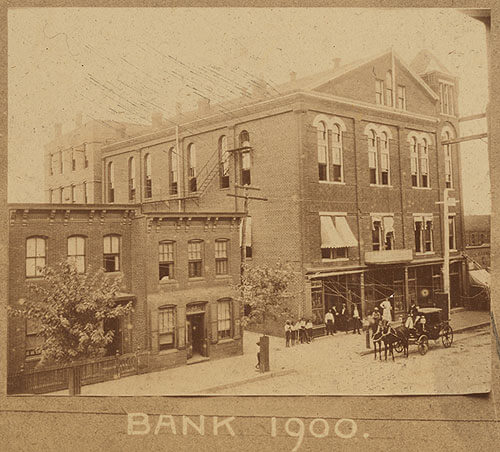 The bank issued substantial, unsecured loans to support lodge projects under Taylor's leadership. Those loans were frequently defaulted on. When R.T. Hill, the bank's cashier, was found to have embezzled $50,000 from the corporation, the ensuing controversy brought the bank to its knees, and most account holders lost their investments. On October 20, 1910, the State Corporation Commission's banking division's bank examiner ordered the bank's closure.